25 HP Tractor 4WD, Four Wheel Drive Tractor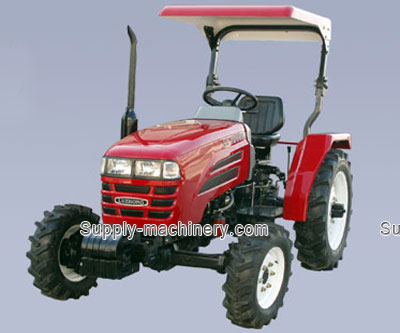 25 HP Tractor 4WD
Model
LZ254
Type
4WD Wheeled Type
(mm)Dimensions of Tractor
Length (to front ballast)
3030
Width
1470
Height (to the exhaust vent)
1900
Tread
Front Wheel
1215 Fixed or 1150~1215 Adjusted
Rear Wheel
1300 Fixed or 1300~1350 Adjusted
Axle Base
1710
Min.Ground Clearance
347.5
Structure weight (kg)
1130
Ballast weight
(kg)
Front ballast
56
Rear ballast
112
Rated traction force (kg)
551
Engine
Model
385
Type
Vertical,3-Cylinder,Water Cooled and 4-stroke
Rated Power(kw)
18.3
Rated speed (r/min)
2400
Fuel
Diesel
Tyre
Front Wheel
6.00-14
Rear Wheel
9.5-24
Clutch
Dual-stage clutch
Steering
power steering
Transmission Type
8+2 or 8+8 with shuttle gearshift or 16+4 with creeper shift
Suspension Type
3-point links
PTO
Type and Rev
Semi-independent Type 540/1000
Spline Size
F35 Rectangle Spline with 6 teeth
Structure and specification are subject to change without notice.
QUICK CONTACT
If you need to consult the price, please contact the business department by E-mail:
When you contact us, please provide your detail requirements. That will help us give you a valid quotation.