QT4-15B brick making machine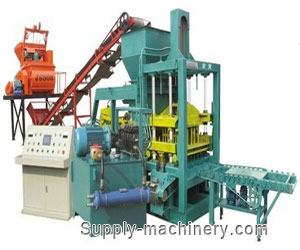 QT4-15B
Fully - semi automatic concrete blocks bricking machine QT4-15B
Brief introduction :
1. It is a compact machine with electric and hydraulic system, each procedure action locks with each other to guarantee the machine operate safely, easily and reliably.
2. Through mold-releasing oil cyclinder, the mold box was locked into the vibration table with high rigidity to reach the synchronous vibration, so that the concrete can be fluidified and exhausted in two or three seconds to ensure the high-density, especially suitable to produce the standard blocks, which can be piled up immediately so that the pallet investment can be saved directly.
3. The unique forcing charge system can make use of various kinds of industrial waster and material such as coal ash, cement, sand, stone, slag, and so on. The machine can severs several purposes and produce various specification standard bricks, concrete blocks, porous blocks, paving bricks etc.
Control system:
PLC intelligent control. Man-machine interface, control system equipped with complete logic control, production program, malfunction diagnosis system and remote control function. So it doesn't need a professional person but only need a simple trainning to the operator.

Product scope:
It produces various bricks/blocks including color-face bricks (layered material feeding),through-body tiles,lock linkage blocks, road curb bricks, hydraulic blocks,hollow blocks, perforated bricks, and standard bricks etc.


Main Technical Specifications

Main Technical Specifications
Overall Dimension
6800×1500×2700(mm)
Rated pressure
16MPa
Main vibration form
Platform vibration
Cycle Time
15-25 seconds
Vibrating Frequency
4600 rolls/minute
Motors Power
27.85KW
Pallet Size
950*550(mm)
Raw Materials
crushed stone, sand, cement, dust and coal fly ash, cinder, slag, gangue,
gravel, perlite, and other industrial wastes.
Applied Products
concrete blocks, solid/hollow/cellular masonry products, paving stones with
or without face mix, garden and landscaping products, slabs, edgers,
kerbstones, grass blocks, slope blocks, interlocking blocks, etc.
QUICK CONTACT
If you need to consult the price, please contact the business department by E-mail:
When you contact us, please provide your detail requirements. That will help us give you a valid quotation.