20 HP Tractor 2WD, Two Wheel Drive Tractor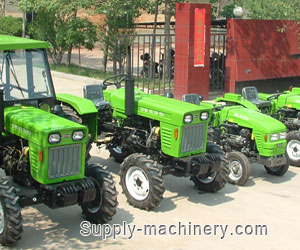 20 HP Tractor 2WD
The characteristics of tractor from 20hp to 24hp
Semi-separation hydraulic lifters are using reliable. Lifter cylinder bore is 80mm (other companies are 75mm).
Final drive transmission use planetary reducer structure. Large transmission ratio, load bearing equality, stably transmission, little noise and long life using. ( the common size)
The ground clearance of High ground clearance tractors is 150mm higher and better through performance than the common ones.
When you shifting or slowing down, the gear pump in the front is not affect the agricultural implements. It is satisfied with customer using tractor in the farm.
Wet disc brake is using stably ,reliably, and long time
The speed is 10%-27% higher than other same type tractor. It is high efficiency and saving fuel in the transport.
The tractor has pin-type differential locks; this can avoid single side slipping effectively when climbing the mountain or bridge slope. It drives quickly and strongly.
Air filter is 200-350mm taller than other same products. It can reduce engine troubles and keep sir clean when air through in.
The tractor's lamps are more than other same products. It is more bright and safe when driving in the night.
10. The tractor's hood has spring open structure. It's convenient when opening hood.
11. Strainer is fit in the front of water tank; it can avoid hays and sundries to block up water tank. Strainer is convenient for loading or unloading and cleaning.
12. Front and rear wheel tread are adjustable. So our tractors are suitable for use in different farmland.


The main specification of 20hp to 24hp tractor
Tractor Model
200
204
240
244
General Specification
Driver Type
4×2
4×4
4×2
4×4
Length*width*Height(mm)
3545*1488*1922
3545*1488*1923
3545*1488*1924
3545*1488*1925
Traction force(KN)
6.2
7.5
7.9
9.48
Steering
Machanical
hydraulic
Machanical
hydraulic
Wheel base(mm)
1634
1675
1755
1799
Front wheel tread(mm)
1172-1472
1200
1172-1472
1200
Rear wheel tread(mm)
1148-1448
1148-1448
1148-1448
1148-1448
P.T.O.Max.Power(Kw)
18.8
18.8
21.8
21.8
Ground clearance(mm)
320
260
360
280
Engine
Type
SL2105ABT2
SL2105ABT2
SL3100ABT2
SL3100ABT2
Bore×Stroke(mm)
105*117
105*117
100*117
100*117
Rated revolution (r/min)
2300
2300
2300
2300
Max.torque(n.m)
≥114.2
≥114.2
≥131.8
≥131.8
Speed of Max.torque r.p.m.
≤11725
≤11725
≤11725
≤11725
Transmission
Clutch
Single-stage clutch
Gear box
8F+2R
Working device
Lifter tilling depth control
Power,bit-conditioning
Max.lifting capacity( KN )
5
5
5.8
5.8
Suspension type
Class 1 3-Point hitch
Speed of P.T.O.(r/min)
stardard:540/720;optional:540/1000,720/1000
QUICK CONTACT
If you need to consult the price, please contact the business department by E-mail:
When you contact us, please provide your detail requirements. That will help us give you a valid quotation.