Pig Nipple Waterers, Swine Water Nipple, Hog Drinking Nipple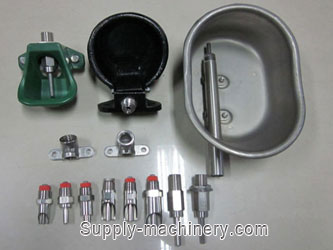 Water Nipple
Stainless steel Nipple drinker Overview

1. Our Stainless steel Nipple made of High quality of stainless steel.
2. Z 1/2" NPT connector can keep water not flow out.
3. Feature: Water saving. Hygeian water. keep livestock without sickness.
4. You can choose anyone which suitable for piglet in nursery. adult pig.finish pig.Cow. Sow.
5. Pig Nipple drinker. Nipple drinker. livestock nipple drinker.



The advantage & feature of Pig nipple drinker as following:

1. Thread connector: 1/2" NPT(American Pipe standard)
2. Raw material : Stainless steel
3. Adjustable plastic filter with dome Strainers can keep the impurity out.
4. High quality of O-Ring can service many years.
5. 100 PCS/CTN package is easy to carry.
6. Laser Logo is available.
7. Competitive price and high quality.
8. Water saving and Labor saving.
9. Hygeian water can keep pig in healthy raise.

QUICK CONTACT
If you need to consult the price, please contact the business department by E-mail:
When you contact us, please provide your detail requirements. That will help us give you a valid quotation.